NEWS
BLANCPAIN GT SERIES - SPRINT CUP - VICTORY AND DRIVERS\' TITLE!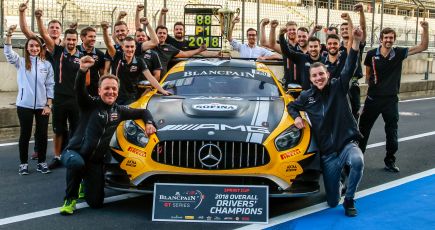 BLANCPAIN GT SERIES - SPRINT CUP - VICTORY AND DRIVERS\' TITLE!
Victory and 2018 Drivers Title for Marciello and Meadows: full marks for AKKA-ASP!
Suspense until the very end… it wasn\'t until the final five minutes of the last race of the season that the winner of the 2018 Blancpain GT Series Sprint Cup was determined. But it was well worth the wait, as the drivers of the #88 AKKA-ASP car, Raffaele Marciello and Michael Meadows, claimed the 2018 Drivers title as well as victory in the weekend's second race. Full marks for Jérôme Policand's team, whose pairing of Nico Bastian with Jack Manchester had already secured the Sprint Cup Silver Cup last week in Hungary. A perfect score, to which should be added the results of the Team's other cars, Nico Jamin and Adam Christodoulou in the #87 but also Alexey Korneev and Vladimir Atoev, vice-champions of the Sprint Cup Silver Cup in the #35 SMP Racing by AKKA-ASP. A brilliant result for the whole team, who showed great perseverance and never gave up hope. Now, for Raffaele Marciello, the aim is the Blancpain GT Series, including both the Sprint and Endurance Cups, where the Italian driver is leading by 18.5 points. The final meeting of the Blancpain GT Series Endurance Cup, in two weeks' time in Barcelona, will be the season highlight, as Team AKKA-ASP and its driver crews will still be competing for the titles…
The Nürburgring circuit is not quite like any other, both technical and testing, and, like its close 'neighbour' the other side of the Eifel – the circuit of Spa-Francorchamps – notorious for its changeable weather.
This weekend, there were no bad surprises as far as the weather was concerned, although temperatures were rather chilly. There were some changes in the AKKA-ASP clan, as Nico Jamin had a new team-mate. Having shared the cockpit of his Mercedes-AMG GT3 with Denis Bulatov, it was the turn of Adam Christodoulou to share the #87. Adam is hardly a newcomer to the French team, having driven in Silverstone with Tristan Vautier and Raffaele Marciello, and then in the 1000 km of the Circuit Paul Ricard with Raffaele Marciello and Thomas Jäger.
For the pair of Marciello and Meadows, this final round of the Sprint Cup was a case of double or nothing. Having set the last two pole positions and scored points in every race, nothing was settled for the joint Championship leaders. It was the same for the team title. With a deficit of 10.5 points, AKKA-ASP was still in the race but had some tough opponents.
....
FINALE - NURBURGRING